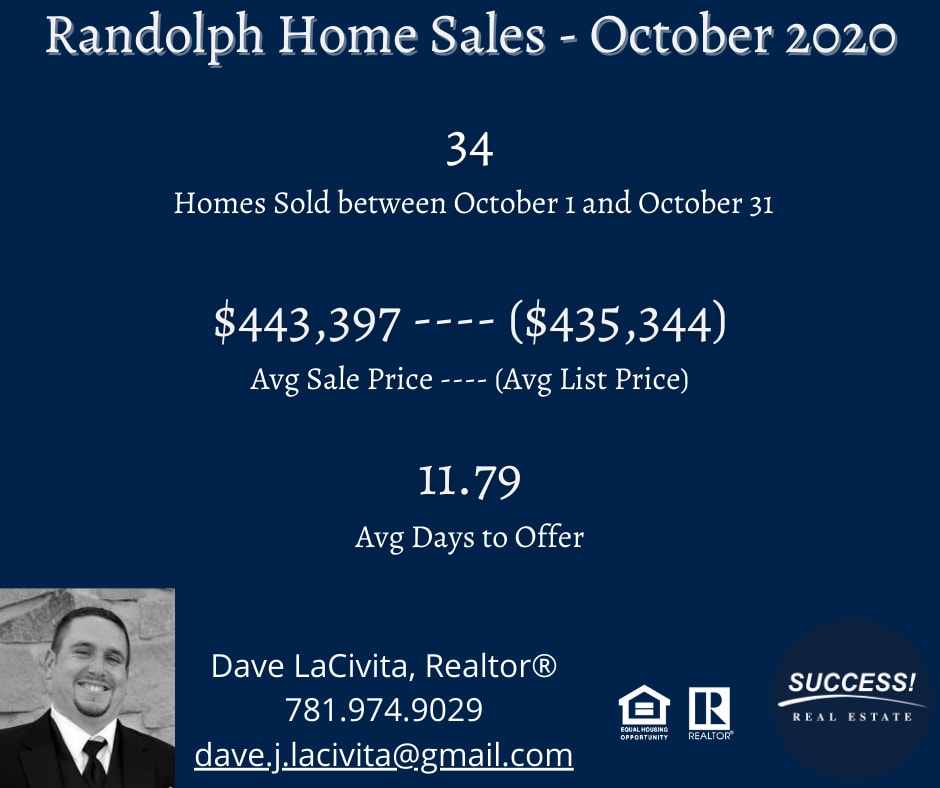 What's up everbody? This is the first of hopefully many blogs coming from me to you in order to keep you in the know about what's happening in the market around here. You'll see stuff about Randolph, Stoughton, Holbrook, Braintree, and the surrounding towns from time to time. I'm going to try to get this info out you monthly, but if you ever need anything from me in terms of a specific market update, please don't hesitate to reach out. I specialize south and west of Boston, but I can provide insights anywhere east of Worcester. With the formalities out of the way, let's get down to business!
People tend to get worried about the housing market once Fall comes around. Add to that an election year amidst one of the world's biggest health scares in quite some time, and you can readily assume that it would be near impossible to sell a home right now. Thankfully, that is just not the case. The Randolph market is as healthy as ever! Homes are still coming on the market and going under agreement in under two weeks.
The best part of a tough situation are the silver linings. Due to low interest rates and even lower inventory, sellers are getting great offers on their homes and the buyers making them are well qualified and prepared to close as scheduled. The real estate industry has luckily been able to be here for sellers and buyers throughout the last 10 months, and Realtors® (like me) are qualified to deal with stressful situations.
Randolph has seen over 30 single family homes get to the closing table in October with an average sales price of over $440,000! Sellers are getting an average of 2% over their asking price, meaning prices are listed accurately and appropriately for the area. Offers are coming in almost as soon as the "For Sale" sign hits the front lawn. In the right situation, you can put your home on the market and get offers on that home in less than two weeks! That is just phenomenal.
A healthy market, hungry buyers and a knowledgeable Realtor® is a winning recipe for your home to sell quickly. I'd love to be a part of that journey for you. What can I do to help you? Reach out, give me a call or text, and let's talk real estate (or Randolph). I'm from here, I live here, and I love it here. A Realtor®that truly loves the communities they serve adds lots of value to the sale experience. If I can be of any help, I'm here for you.
Thanks for taking the time to read this. I hope you get something from it and will share it. Also, and much more importantly, have a happy and safe Thanksgiving. I'm looking forward to our next chat!
Dave